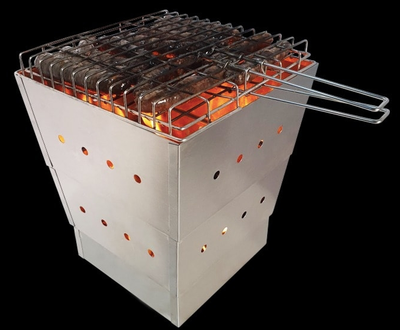 The SwannieBraai is a Multipurpose Quick Grill that uses Newspaper, Charcoal, Briquettes or Wood to Braai or Bbq your Boerewors, Sausage & Meat in only a few minutes!

Due to a huge demand in the market, we have designed and launched the new Square SwannieBraai .
They do the same job as the original round SwannieBraai , hailing from 1959, designed especially to braai wors just with a few balls of crumpled newspaper.

Meanwhile they evolved to also include charcoal and wood, if you so choose to. Made in the Western Cape with better, thicker & stronger Stainless Steel.

The SwannieBraai folds flat into the Double Grid and is thus an excellent choice for bikers, 4×4 enthusiasts, campers, hikers, farmers and all who need to travel light and small.